Your trusted
domain partner
since the days of
dial-up.
For almost three decades we've helped people find and maintain the perfect online home for their business or brand, blog or band. We bring a personal approach to domain registration, with your needs at the center of everything we do.
A lot has changed since our humble beginning in 1996—the Wild West days when most of our clients paid by check—but we've stayed true to our roots as a small, family-run business. Dedicated service and attention to detail will always be our true north.
Helping you succeed online
is our domain.
Our Services
You can rely on our decades of experience for fast, simple domain registration. Our user-friendly search tool helps you choose the perfect domain name, and our experience in world-class DNS management makes registration seamless when you find it.
When you find an available domain name that's a good fit, you need to move quickly to secure it. We can have your 'website under construction' page live in seconds. 

With your privacy in mind, we give you the option to list our contact information (rather than your own) on the WHOIS domain database. 

Our auto-renew policy gives you one less thing to remember—and it's just one of the ways we've got your back. If your card fails, we'll renew your domain anyway, and hold it as long as we're able. 

As a small team of domain experts, we're happy to answer your questions anytime, and look forward to getting to know you.

Our domain registration service includes all of the above and more—with no hidden fees.
From domain searches to renewals, we provide personalized service that simplifies the entire process—so you can focus on what matters most.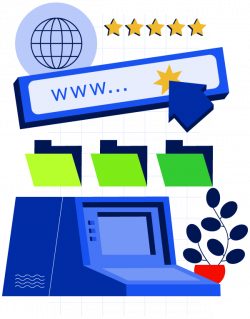 Who We Are
We founded DomainRegistry.com in 1996—with a love for the wild new world of the internet—and a hunch that people would need help securing their domains. Today, we're a tight-knit team that's proud to be the 3rd oldest ICANN-accredited registrar still in operation—serving a diverse range of clients worldwide.
Since our founding, we've made it our mission to uphold the highest standards of integrity as your domain registrar. We're dedicated to protecting your privacy, making it as simple as possible for you to register your domain, and treating you with respect and care if you need to transfer to another provider.
As we continue to grow, we remain a small business at heart. That's why we've teamed up with Northwest Registered Agent, a leader in small business solutions. Together, we're committed to providing you with expert guidance every step of the way. 
Our Journey
1996
Riding into the Wild West
If the early days of the internet were the wild west, 1996 was the year our founder, Larry Erlich, arrived on horseback.
Leaving the Wharton School of the University of Pennsylvania, Larry knew computers were the future, but he wasn't sure how at the time. He taught himself to code on a multi-terminal UNIX system. While working for another company, Larry realized that catchy phone numbers had become valuable "real estate"—and thought the same might be true of domains.
It turns out he was onto something—as soon as he set up shop and placed a few ads, the phone started ringing.
1999
Getting in on the ground floor
ICANN (Internet Corporation for Assigned Names and Numbers) is one of the foundations of the internet, a non-profit organization that ensures that every website has a unique address. Larry was there at the start of ICANN, supporting groups like ICANNwatch.org (by registering their domain names for free).
In 1999, DomainRegistry.com became one of the first ICANN-accredited domain name registrars worldwide—beating some of today's more well-known domain providers to the punch!
ICANN Accreditation tells customers they are dealing with a domain provider who is trustworthy, secure, and genuine. To this day, DomainRegistry.com upholds the principles of being an accredited registrar.
Early 2000s
An early advocate
By the start of the century, Larry had established himself as a thought leader, offering expert commentary on domain and internet issues to publications like the Wall Street Journal, CBS, ABC, and others.
He took a particular interest in consumer rights and was an early advocate for internet privacy—an issue now championed by web advocates worldwide. He also used this platform to rally against domain-name monopolization by larger domain registry companies.
2009
The company grows
DomainRegistry.com has grown into a global domain name provider with thousands of clients worldwide. We continue to hone our expertise while registering domain names for multinational companies, small businesses, educational and government institutions, and even a few notable celebrities!
2018
Serious staying power
By the end of the 2010s, DomainRegistry.com is managing the domain needs of thousands of individuals and companies in 160 countries around the world.
As we continue to do what we love—helping people and companies find the perfect domain—we have now outlasted the vast majority of other accredited registrars. Our longevity is a testament to our passion: providing our clients with best-in-class domain registration services.
2023
Looking towards the future
Twenty-six years ago, Larry Erlich rode out into the wild west of the internet, with a vision for what could be.
Now, in 2023, we're excited to announce that DomainRegistry.com is joining forces with Northwest Registered Agent—a company that shares our dedication to personal service, privacy, and practical solutions for business owners.
As we begin this new chapter, we recognize the immense legacy of our founder. While he's handing over the reins, Larry will continue to provide domain consulting at Larry.com—and we're grateful for his ongoing inspiration.
Our commitment to providing exceptional domain services remains as strong as ever—and we're thrilled to be partnering with Northwest to bring you more value in the years to come.